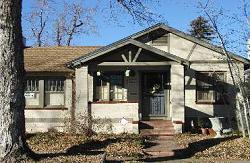 The Craftsman or Arts and Crafts style was a prevalent home design during the very late 1800's through the 1930's.  The style can be characterized by simplicity of form, use of natural materials such as stone or wood and the visibility of handicraft.
Use this design style as a guide for your layout today.  Create a layout with clean lines and a simple style.  Consider a linear or grid-like design.  Add some natural elements like wood veneers or wood tone paper.  Choose embellishments carefully.  Remember, sometimes less is more.
Or, consider telling a story of simplicity.  Would you like to simplify in some area of your life?  Do you have an arsenal of simple recipes to cook on busy weeknights?  How has simplifying impacted your life?
Think about.  Come up with a plan.  Scrap a layout!
It's that SIMPLE!
P.S. This month's ScrapHappy Super-Secret Password is Minnelli. Shhhh!
All LOAD in Vogue posts will include the password starting tomorrow, October 3.