In October our minds naturally turn to Fall holidays – specifically Hallowe'en. With three daughters, I've made my fair share of Hallowe'en layouts! We went through the princess phase, the Hannah Montana phase, the creepy cheerleader phase … all of it. But have you ever thought about what a costume represents and scrapped about that instead?
This month the design team was asked to focus on times when we were not appearing to be ourselves, or stories about others not appearing to be themselves. It would have been really easy to scrap yet another set of Hallowe'en photos (it's not like I'm "caught up" or anything! LOL!) But I decided to dig a bit deeper. I've been doing a lot of that lately so it seemed appropriate to take that self reflection into my scrapbook layouts.
After determining that I wouldn't be scrapping a Hallowe'en layout, the next question to tackle was what was I going to scrapbook about?
This took me some time as I am the type of person who tries really hard NOT to present something I'm not. My inner mantra is to be open and transparent at all times – sometimes with quite embarrassing consequences! It's taken me years of self discovery but the truth is, I plain old don't like fake people and don't want to BE a fake person.
That's not to say I've never worn masks. I was orphaned at 14 and spent the next 10 years or so pretending to be whatever or whoever I needed to be to survive; to keep a roof over my head and "nice" people around me. That is a very exhausting way to live and I'm ever so glad I finally matured enough and grew strong enough in who I am to leave that all behind me.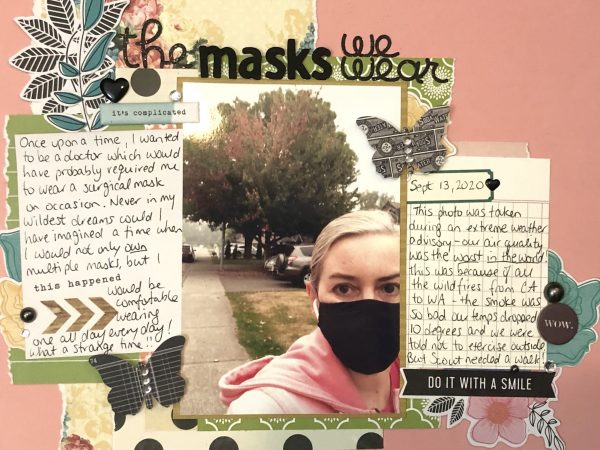 I think we can all agree that we are living through the weirdest time on Planet Earth, right? My journaling on the left says it all – while I may have at one time pictured myself in the type of job where I'd be donning a surgical mask every now and then, never did I imagine wearing one every day at work. At Homesense! But this is where I find myself. And on the day in the photo above, there was such heavy smoke in the air from the wild fires along the West Coast of the US that we were being told not to go outside to exercise and to keep windows and doors closed. We had worse air quality than China or India!! My dog needed his morning walk though so I put on one of the many fabric masks we now have in our house and off I went.
For technique, I've been wanting to try the paper tearing that Tazhiana did so masterfully during the ScrapSmarter Experience. The smoggy image called for softer edges to my papers in my mind. It was a bit scary, I won't lie, but I just went for it. And I love it!
I took my colour cues from the photo too. It was taken in the middle of September but the maple tree behind me is starting to turn colour which helped me choose more autumnal colours. Plus I'm wearing a very bossy salmon coloured top that had to be worked in somehow.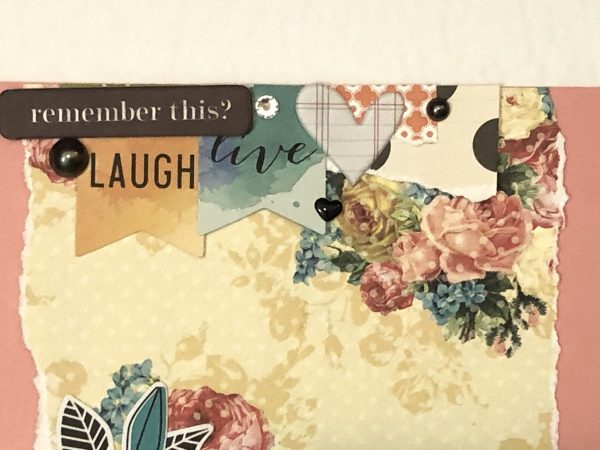 Here I repeated small scraps of some of the other papers used on the layout to create an embellishment grouping. This is a technique I come back to all the time. It helps keep things cohesive. When your eye sees the same patterns or colours it knows that the two (or three) things relate. I did the same with the other embellishments I chose – in fact, I cut some of the floral die cuts so I could have the exact same colour and design on both sides of the photo/journaling block.
Whenever I scrapbook about myself I like to choose papers that make me happy. That are pretty and girly. Yes I have three daughters so theoretically I could get sick of pretty, girly and pink, but they do not necessarily like me to make overly girly layouts about them so I love embracing all things floral and feminine in my own pages. And when I am tackling deeper stories, it helps me to surround myself with pretty things. Takes the sting out of what could potentially be a thorny subject.
What masks have you worn in your lifetime? What ones do you wear now – figuratively speaking that is. I challenge you to scrapbook about them and pair that story with technique that is a bit out of your normal. If you want to grow as a person or as a scrapbooker, you need to step outside your comfort zone, try new things, and see what happens. And heck, it's only paper! If it all goes horribly wrong, you can always buy more paper!